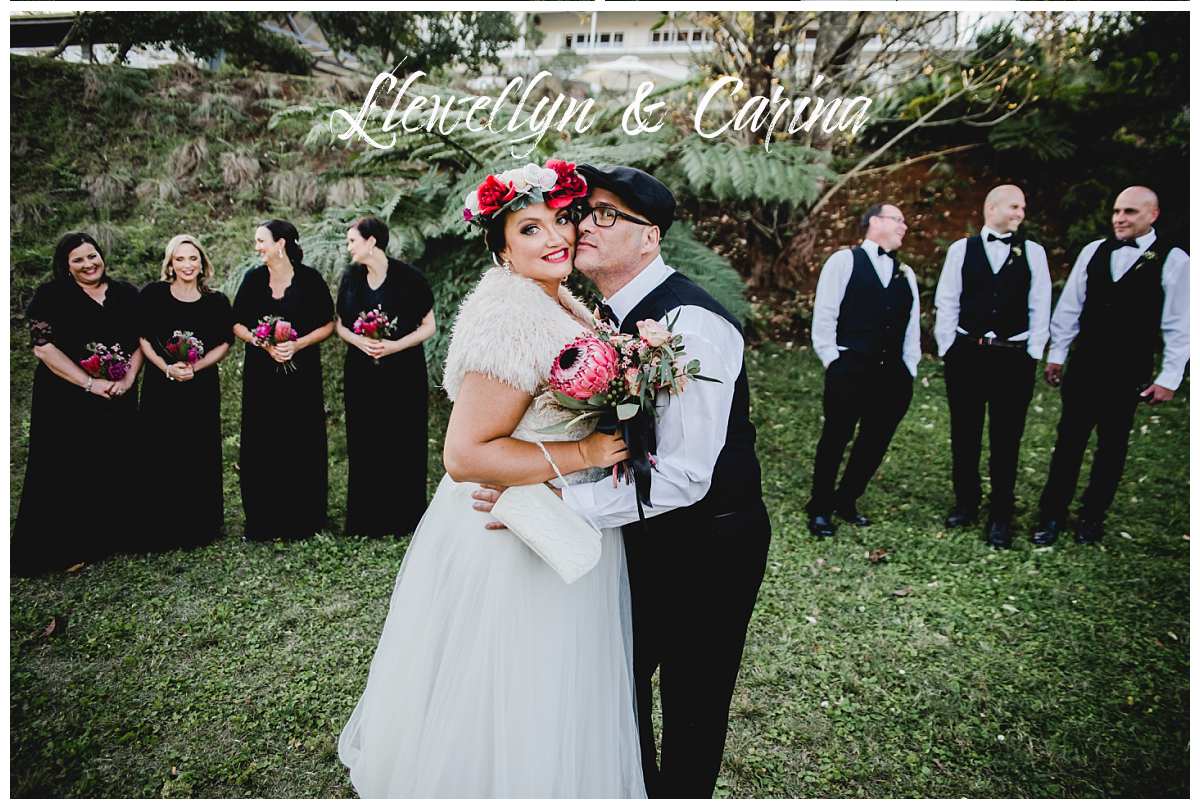 Llewellyn & Carina
I would like to welcome Llewellyn and Carina to our blog today. This amazing couple got married at Talloula in Bothas Hill. The decor set up by Glynnis was fantastic as always! The groomsmen got ready at Llewellyn's mom's house in Hillcrest whilst the girls got ready at the venue. Llewellyn was relaxed when I arrived and the boys  did everything I had asked of them to do without complaining. The groom prep was done quite quickly and after 40 minutes of shooting I was ready to go see the Bridesmaids.
Upon arrival I noticed how the Spring season was ripe in the air with flowers everywhere! So so beautiful! The weather was perfect and when I saw Carina she looked like a 1940's actress from Hollywood! The girls were easy to work with and Carina stole the day with such a gorgeous dress! Her son walked her down the aisle to Llewellyn which was super special and the groom could not take his eyes off of his bride… The ceremony had a powerful message about not giving up when things get tough and making and building something together. After some beautiful vows were shared and the ceremony formalities were completed it was time for the grande exit. Petals were flying everywhere and everyone was so excited that this day had finally come. We cut the cake soon after the ceremony was completed and I rounded up the families for some family photos.
The creative was an absolute blast with smoke bombs, a few good jokes and an intimate shoot with just the bridal couple. Talloula never fails to deliver as their venue has everything a photographer would ever need! Time just moved by so quickly…
The reception was buzzing with people catching up on their lives and it seemed everyone in the hall were very special and had played a big part in Llewellyn and Carina's lives. I loved how the lights of the Bridal couple's initials lit up the back of the speakers hair when giving a speech. It just added so much to the venue…
Wine was plentiful and everyone could see how much Llewellyn adored Carina! I would just like to thank this couple for allowing me to be a part of such a special day in their lives and wish them only success in their future together!
Minister : Lex Stewart
Venue: Talloula
Cake: Llewellyn's Mom (Linda Jones)
Dresses : Nikki Roux
DJ: Rudi Prigge (Heartbeat Wedding DJ)
MUA: Nixon Makeup & MUYM
Wedding Planner: Glynnis (Talloula)
Photographer: Wade Conway